"Spooktacular" Halloween Craft Ideas: Get Your DIY On!
Halloween is just around the corner, and it's time to dive into the "spooktacular" world of Halloween crafts! Whether you're decorating your home, creating unique costumes, or making personalized gifts, we've got you covered. In this blog post, we'll explore exciting and festive Halloween craft ideas that will ignite your imagination and make this Halloween season unforgettable. So, get ready to embrace your creativity, and let's dive into the world of DIY Halloween crafts!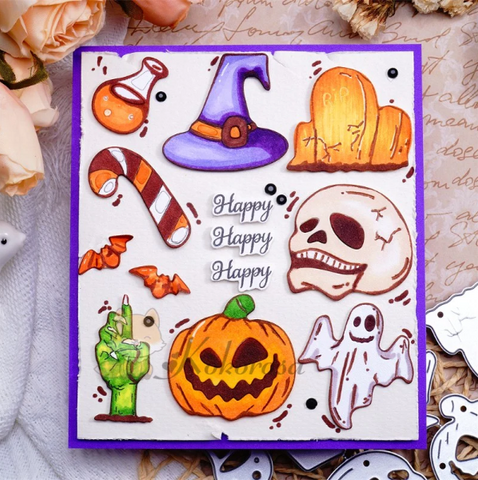 Spooky Halloween Cards:
Spread some Halloween cheer by creating your own Halloween cards. Get creative with eerie cutouts, spooky messages, and haunting illustrations. Use black, orange, and purple cardstock to set the mood and include elements such as bats, ghosts, witches, or pumpkins. Our Halloween-themed dies cover various creative designs of Halloween elements and can provide countless ideas and possibilities for your paper Halloween crafts. Whether you send them to loved ones or leave them as surprises for your trick-or-treaters, homemade Halloween cards are a unique way to add a personalized touch to the season.

Ghostly Mason Jar Lanterns:
Transform ordinary mason jars into ghostly lanterns to add a haunting ambiance to your Halloween decor. Start by painting the jar white, then use black construction paper or adhesive vinyl to create ghost-like facial features such as eyes and a mouth. Add an LED tea light inside, and watch as these adorable lanterns cast eerie shadows. They're perfect for lining your porch, placing on a mantel, or creating a spooky centerpiece for your Halloween party.

DIY Halloween Wreath:
Welcome trick-or-treaters with a DIY Halloween wreath. Start with a basic wreath form and wrap it with black or orange fabric. Add spooky embellishments such as plastic spiders, mini pumpkins, faux cobwebs, or even a witch's hat for a whimsical touch. You can also include a cheery Halloween-themed banner or a spooky sign to complete the look. Hang it on your front door to set a festive and spooky tone for your Halloween celebrations.

Spiderweb Halloween Garland:
Create a spine-chilling atmosphere with a spiderweb Halloween garland. Cut out paper or foam spiderweb shapes and string them together with black yarn or ribbon. Hang the garland across doorways, windows, or along your stair railing for an eerie effect. For extra creepiness, add plastic spiders sporadically throughout it. This simple and budget-friendly craft adds an element of sophistication and mystery to your Halloween decorations.

Pumpkin Decorating Ideas:
Take your pumpkin decorating skills to the next level with creative and unique designs. Instead of traditional carving, explore alternatives like painting pumpkins with vibrant colors or spooky designs. Use stencils to create intricate patterns, transform them into favorite movie or book characters, or even create a whole pumpkin family with various facial expressions. Display your artistic pumpkins on your doorstep or porch, or create an eye-catching centerpiece for your Halloween party. The possibilities are endless!

DIY Halloween Costumes:
Get crafty and design your own Halloween costumes this year. Instead of store-bought options, unleash your imagination and create one-of-a-kind outfits that reflect your personality and interests. From classic monsters like witches and vampires to popular characters from movies or books, the options are unlimited. Use fabric, old clothes, masks, and accessories to bring your vision to life. You'll receive both the unique and personalized costume and the satisfaction of creating it yourself.

Halloween is the perfect time to let your creativity shine and have fun with DIY crafts. From ghostly lanterns to spooky wreaths, spiderweb garlands, creative pumpkin decorations, and unique costumes, there's no shortage of ways to add a festive touch to your home and embrace the spirit of Halloween. So gather your crafting supplies, get inspired by these Halloween craft ideas, and have a "spooktacular" Halloween filled with creativity, imagination, and lots of fun! And don't forget to check out new arrivals in our Halloween dies collection and other craft supplies you might need for Halloween crafting at KOKOROSA.
---